by Carla and Martin Gelbaum
Reno, Nevada
Martin Gelbaum: Nobody at my first SGI meeting had a term for the symptoms described by the Vietnam veteran there. All he knew was that these symptoms, the ones he'd brought home from the front—sudden outbursts and hostile feelings—had completely vanished since practicing Nichiren Buddhism. Others shared their own "human revolutions," personal stories of deep character transformation. 
Just a few years earlier, both my parents had begun to talk of taking their lives. As their child, I felt their suffering as my own. 
I didn't know if Buddhist practice would work for me, but I determined to give it the old college try. I had two wishes at the outset of my practice (not yet strong, well-formed prayers)—to have a good path in life and to transform my miserable family situation. I was 19; the year, 1970.
Carla Gelbaum:  My own mother, a child refugee of Nazi Germany, fled her homeland in 1939 to the U.S. with her mother and two siblings.
Because of those searing experiences, both my mother and I were quite wary of people—especially large, organized groups of people. As a result, we lived a rather isolated life. However, at the outset of my Buddhist practice, I began reading The Human Revolution, Ikeda Sensei's account of the struggle of his mentor, Josei Toda, to rebuild the Soka Gakkai after World War II. Through his writing, I could sense their intense shared commitment to world peace and the happiness of all people. His example encouraged me to actively practice in my local district and participate in the young women's Fife and Drum Corps. 
My mother was among the first to notice positive changes in me—a greater degree of openness to others and a growing sense of hope—and decided to join as well. The more I engaged with the SGI, the more I read Sensei's writings, the more I felt empowered to set big goals and live boldly. Recalling my dream of becoming an artist, I reapplied for my Bachelor of Arts and regained a full-tuition scholarship that I'd abandoned. Guidance from Sensei that I held dear at this time had to do with laying the foundations of a victorious life: "A solid foundation is essential in all things. No building or house can stand without a foundation. The same is true in life. And the time to construct that foundation is now, during your youth" (Discussions on Youth, p. 24).
Many "teachers" I'd encountered in the movements and groups I'd looked into seemed to be peddling an escape from reality or a shortcut through it. I was moved by Sensei's compassion and intrigued by the realistic life philosophy of the SGI. In 1970, I had the opportunity to attend a youth training course in Japan, where I met Sensei. You can tell a lot about a person by the way they interact with others. While giving his full attention to the person in front of him, Sensei seemed to use every available moment to connect with as many people as possible. I will never forget one such moment, during which he presented a bouquet of flowers to a young woman standing in front of me. As he did so, he looked at me. In that moment, I felt he was looking right past the many self-criticisms I harbored and revealing to me my innate potential.
Looking back, this moment reminds me of Sensei's famous "Clear Mirror" guidance, in which he encourages us to respect and revere the Buddha nature in each person (see My Dear Friends in America, third edition, pp. 92–103). That encounter convinced me: Sensei lives up to what he says and writes. I determined to continue practicing with the SGI and Sensei so that I, too, could develop such a strong and compassionate life! It also inspired me to renew my dream to become an artist, which I have pursued ever since, creating many works of art and participating in numerous exhibits and local artist groups.  
Martin: I was similarly struck by the writings of Sensei and the history of the Soka Gakkai. Talk is cheap, you know. But when the Soka Gakkai's three founding presidents talk about peace, they mean business. Founding President Tsunesaburo Makiguchi died in prison for his humanistic beliefs.
Over the years, I've continued to deepen my own understanding of what it means to live one's life based on a shared pledge as mentor and disciple.
One supremely practical guidance I have tried to live by is from The New Human Revolution, vol. 1, which I read in 1993, amid the second priesthood issue. In it, Sensei speaks to a Japanese immigrant in Brazil who sincerely seeks guidance about his failing crops but clearly does not know how to farm in his new country. Sensei admonishes the farmer that Buddhism is a teaching of unsurpassed reason. Chanting alone is not enough—the farmer must study his trade, exercise his ingenuity and put in double the effort of those around him. Earnest daimoku based on a vow to advance kosen-rufu, Sensei says, is the wellspring to challenge these things. 
Supremely practical, right? 
We were raising two little kids at the time. My wife was doing her darndest as a zone women's leader, a mother and an artist. My own salary barely covered the mortgage, but I gave my all at work and in my responsibilities as a region men's leader to protect our local SGI organization. In the midst of such trials, the Nichiren Shoshu priests tried to rip apart our humanistic organization, fraudulently claiming that, without their blessing, it would be impossible for us ordinary, working people to attain enlightenment.
Buddhism, a religion of and for the people, teaches that great obstacles are
in fact precious opportunities for growth. Both my beloved wife and I can say that every aspect of our lives—our parents, our children, our work and our marriage—
benefited immensely because of our struggle alongside our fellow members and Sensei. 
Also, by applying Sensei's guidance about work, I was able to introduce, implement and even create many important software technologies at my job. With the results in, it's clear: Sensei is right on the money when he says that a fighting spirit for kosen-rufu is the most important thing to attaining true happiness—and that even if one person can carry out faith, that will lead the whole family to happiness.
Even my parents, who never practiced this Buddhism themselves, became vastly happier as we continued our faith and practice! I'll never forget how my father, in 2005, turned to my mother on his deathbed, clasping her hand in his, and said with deep emotion, "You've been my gal for 62 years." Such a simple thing, but between two people who had attempted suicide, it spoke more eloquently to me than all the words in the world for the transformation we'd done as a family. It was the answer to the very wish I'd held since the start of my practice—a wish that had long since deepened into a heartfelt prayer—for their happiness. Sensei's assurance that, "The bonds between parent and child …are very profound. … [and] the sincere prayers of their children … can lead them to attain Buddhahood" (The New Human Revolution, vol. 25, revised edition, p. 215) encourages us to win each day and thus bring happiness to our parents.
Carla: One of the most important lessons from my own mother and from my practice is that, because our time in this world is limited, we need to create the most value each day. My mother died of ovarian cancer in 1983. Even as the illness raged, however, her life condition grew stronger because of her strong Buddhist practice. Up until the last days of her life, she continued chanting and encouraging the very people who'd come to encourage her. Her mother, my grandmother, came from New York City to stay with her. She would read the Gosho to my mother, in particular, "The Heritage of the Ultimate Law of Life."
Martin: My wife's mother was a strong person. Buddhism is not about becoming content. It's not about just getting out of debt. It's about turning a karmic debt, or poison, into medicine! 
I, too, battled serious health challenges beginning in late 1999, when my heart started jumping around in my chest. As it turned out, I needed open-heart surgery in March of the following year. Then, in 2016 and 2019 as well, I was hospitalized for serious internal bleeding. While one does not generally look forward to a hospital visit, I must say I have wonderful memories of my wife reading to me at my bedside at the hospital. In particular, while I was hospitalized for internal bleeding and braving wave upon wave of nausea and pain, I asked her to read me "On Lessening One's Karmic Retribution," in which Nichiren Daishonin teaches that the hardships we encounter in our Buddhist practice allow us to purge ourselves of accumulated karma in order to bring forth the state of Buddhahood. Sensei says: "We don't focus on our karma merely so that we may repay our karmic debt and bring our balance to zero. Rather, it is to convert our negative balance into a large positive balance. This is the principle of changing karma in Nichiren Buddhism" (August 2003 Living Buddhism, p. 44).
Reading this, I said to myself, Sign me up for the large positive balance!
It was just fabulous how accurately that described my situation! Just as Nichiren and Sensei promised, because I persevered in faith through those problems, I am vastly happier and healthier than ever. Emerging from the pain, I was struck more than ever by the smile that my wife shares with me many times a day, which is just a really good deal—a really good deal!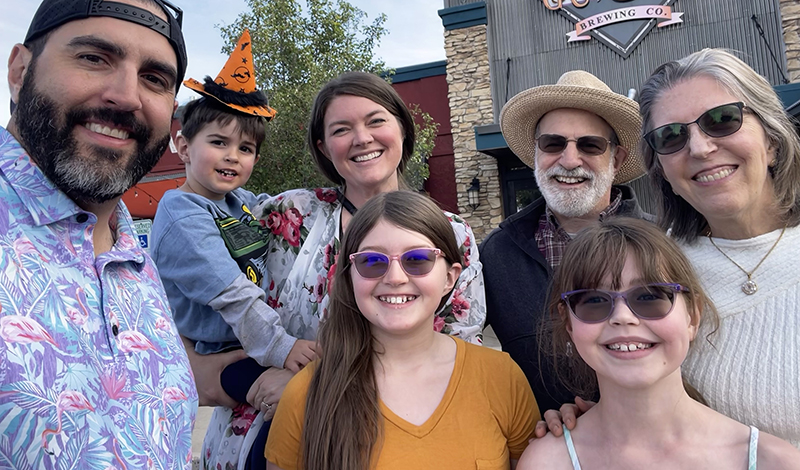 Carla: We deeply love and appreciate our children, grandchildren and everyone in our family! It's not a given that children will like their parents or want to communicate with them—but our children do! Not for all the money in the world can you buy a happy family. We're determined to continue growing as people, bearing in mind Sensei's words to the effect that if parents change a centimeter, their children will change a meter. We can see actual proof of this wisdom because our children and grandchildren are advancing so much in their lives.
Recently, we moved to Reno, Nevada, to be close to our son, daughter-in-law and our three grandchildren. The move itself was quite a feat—in less than three months, we packed and unpacked more than 45 years of married life in California and have embarked on a new and challenging adventure here in Reno. We feel certain that the families we transformed and the one we're building together are the result of strong, united prayer and action based on the wisdom of Sensei and Nichiren Buddhism.
---
Q: What advice would you give the youth?
Martin: My two cents: Determine and vow to practice Nichiren Buddhism throughout your whole life no matter what, and always stand with Sensei and the SGI! And practice the guidance and teachings of Nichiren and Sensei—find even just one thing you really like from their writings and resolve "I'm going to practice and prove the truth of this throughout my life!"
Carla: Ditto what Marty said. I'd add, challenge a consistent daily practice and chant courageous daimoku! With that foundation, live a bold and happy life and contribute in your own unique way to your family, to your work and to the SGI, and advance together with your fellow members and Sensei. Do your best in this way and you'll create wonderful results.
You are reading {{ meterCount }} of {{ meterMax }} free premium articles
Subscribe for unlimited access