The Soka Gakkai recently launched "Transforming Human History," a campaign to encourage engagement and inspire confidence that change is possible. It covers three areas that will determine the future for life on our planet: nuclear weapons abolition, education for all and climate action. These issues are the focus of Ikeda Sensei's 2022 peace proposal.
The World Tribune covered Nuclear Weapons Abolition in the Sept. 9 issue and Education For All in the Oct. 21 issue. The following was adapted from sokaglobal.org, the Soka Gakkai's international website.
Because of humanity's failure to act, the climate crisis has intensified as scientists predicted. The damage to natural systems is undermining the very foundations of life on our planet, placing the future in jeopardy. The crisis can seem overwhelming. But when we take the time to learn the facts and deepen our awareness, we discover pathways of action. Through action we become empowered, and hope is born.
---
By the Number
Source: www.sokaglobal.org/campaigns/transforming-human-history/
2/3
Two-thirds of extreme weather events in the last 20 years were influenced by humans.
6
Natural climate solutions such as restoring degraded forests could create jobs at a rate that's more than six times higher than that of the oil and gas industry.
25–41%
25% of mammals, 41% of amphibians and 33% of reef-forming corals are threatened with extinction.
125,000
The last decade was the hottest in 125,000 years.
300 billion–50 trillion
It's estimated that ending climate change would cost between $300 billion and $50 trillion over the next two decades.
28 trillion
Since the mid-1990s, we've lost around 28 trillion tons of ice, with today's melt rate standing at 1.2 trillion tons a year.
---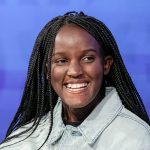 'No Action Is Too Small to Make a Difference'
Climate activist Vanessa Nakate from Uganda was the first in her country to organize a school strike calling for action on the climate crisis. She has been sharing her voice on the international stage, and in 2021, she spoke at the 26th United Nations Climate Change conference, COP26. The following is an excerpt from her April 2022 interview with Soka Gakkai's daily newspaper, Seikyo Shimbun.
Seikyo Shimbun: Three years ago, you went on your first climate strike. What motivated you?
Vanessa Nakate: In 2018, I started researching some of the challenges that the people in my community face, and that's when I learned that climate change was one of them. We learned about climate change in school, but all I knew about it was that it was causing changes in weather patterns over a long period of time.
I didn't know that it was actually a great threat facing so many people's lives. I wanted to understand the causes of climate change and its impact on communities, people's lives and nations at large. I realized that I had already seen some of these impacts in my country: extreme flooding, landslides and drought. I decided to do something about it. Inspired by Greta Thunberg's climate strikes, I also started striking every Friday. My very first strike was in January 2019 at a local market, and it's been over three years now.
What are some of the challenges and risks you and others faced going on strike?
Nakate: Doing climate strikes in my country, and probably in other African countries, is not the same as in Europe or in the United States, where we see large numbers of people coming out and striking. It's very different for us. In the beginning, I would do these strikes by myself or with a friend, and we would go to the streets with our placards.
The first global climate strike must have been in March 2019. In the global climate strikes, people organize with many others, but I couldn't do that. I didn't have the resources to do that; I didn't have the permission to do that. So, I went to the principal of a local school and requested permission to speak to the students and do a climate strike with them. That was the start of me reaching out to schools.
Education is really respected in our communities, and many parents work so hard to make sure that children go to school, stay in school and also finish school. This makes it hard for students to walk out, because they could be suspended or expelled. This is why I got permission to go to schools to talk to students about climate change.
Addressing Energy Poverty in Rural Schools
In 2019, you launched the Vash green schools project. Please tell us about this.
Nakate: I started this project in 2019 to address energy poverty in rural schools by coming up with economic and sustainable solutions. It involves installing solar panels and eco-friendly stoves in schools in Uganda. This was to help communities and schools transition to renewable energy, because not every school can afford it, not every family or community can access it. Through this project, that is supported by people in different parts of the world, we install solar panels for free at schools to help drive that transition. Most of the schools in Uganda use firewood to prepare food. This means the cutting down of trees. The eco-friendly stoves do not completely eliminate the use of firewood, but they help reduce the amount of firewood used to prepare food.
We construct the eco-friendly stoves at the school. In addition to reducing firewood, they also reduce indoor air pollution for the chefs. This project has also been a way for us to extend climate education to schools, teachers and parents. We engage with the community.
It has given us an opportunity to speak to students about climate issues and the climate work that we do. We are able to show them the power of small actions—their actions—and the power of their voices in transforming the world. To date, we've done installations in 13 schools.
'Save the Congo Rainforests'
You also make a strong appeal for the protection of the rainforests in the Congo Basin, which borders Uganda. Can you tell us more about this?
Nakate: I started to read and educate myself about what was happening in the Congo Rainforest and learned about the ongoing illegal logging, road construction and mining of mineral resources. I remember one article stating that the current destruction in the Congo Rainforest could mean the complete loss of the forest by 2100. To think that this is the second largest rainforest in the world and there is not much information about it was surprising. …
I started to do my own strikes, mainly from home. I would make a placard with the words "Save Congo Rainforest," for example, and would share this on social media. I just kept sharing, and I remember on the 15th day of striking, Greta Thunberg retweeted my post. As a result, many people started to get more engaged and started organizing and sharing pictures of the rainforest. I learned that some people didn't know about the existence of the rainforest, let alone the destruction taking place in it. It's actually possible for an entire ecosystem to disappear without people knowing about its existence. …
The climate crisis will eventually affect all of us if we don't do something about it. You may not be there to see the effects, but it will affect your children and grandchildren.
The earlier people understand that it is a human responsibility, the easier it will be for us to take action and build a future that is sustainable, equitable and healthy for all of us. It's not about you, it's about everyone. Seeing your neighbor being happy, seeing the child next door being able to access food or finish school, these are the real joys of life. It's about having a world that's safe and healthy for everyone.
Seeing your neighbor being happy, seeing the child next door being able to access food or finish school, these are the real joys of life.
A Climate Solution: Educating Girls
You also emphasized that the education of girls is a crucial way to address the climate crisis. Could you tell us more about this?
Nakate: When it comes to climate solutions, we always hear people talk about things like solar power, green spaces and electric vehicles, but you never hear about girls' education being a climate solution, and a powerful climate solution at that. Project Drawdown lists a hundred things that we can do to reduce greenhouse gas emissions and ranked number five of the most impactful solutions is educating girls and family planning.
Women's empowerment and educating girls not only benefits the individual, the effects cascade through the family, community and world at large.
This is also a solution that will reduce already existing inequalities that so many women and girls face as the climate crisis escalates. In many communities, women and girls are on the frontlines of the climate crisis, because they have the responsibility to provide food and water for their families, especially in rural areas. They are the ones who have to walk long distances to collect water for their families. If the family can't take care of their children anymore, some of their children are forced to drop out of school, and again, it's always the girls who drop out. Many are forced into early marriages.
Educating and empowering women and girls will help reduce many of these inequalities; it will build the resilience of women and girls, and also reduce greenhouse gases at the same time.
In your book A Bigger Picture: My Fight to Bring a New African Voice to the Climate Crisis, you suggest 10 ways to change society. What particular message would you like to impart to the young people, especially in the Global North?
Nakate: I think many times, young people will ask themselves what they can do in the movement. I think that question alone is one step toward doing something. I always say to find a group that is already organizing in your community; you don't have to start alone. But, if you don't see any community that is organizing in your country and you want to organize, then my advice is for you to start. You don't need many resources; all you need is a placard and a marker to write that message and share it on your social media. That is what I did, and that always reminds me that no action is too small to make a difference, and no voice is too small to make a difference.
I think it's important for young people to know that there is so much power in their voices, their voices are actually transforming the world. There is so much power in their actions that are already transforming so many people's lives. We may not be able to do things on a global scale, but we have seen the changes on a local level—the joy, the happiness in people's faces when you bring these projects into their communities.
Whatever you do—if it's doing that small project in your community, speaking to your family or friends—that is something that you are doing for the environment, for the planet, for the people. No action is too small to transform the world.
December 9, 2022, World Tribune, p. 6–7
You are reading {{ meterCount }} of {{ meterMax }} free premium articles
Subscribe for unlimited access