by Jeanne McKinney
San Jose, Calif.
One of my earliest memories was being labelled "an extremely shy and anxious child." I came by my fears naturally. My parents, secular Jews, had handed down in ways spoken and unspoken the lessons of caution they lived by. After fleeing Vienna just before its Nazi takeover, my father continued to live with a siege mentality, his motto being "Watch your step, and any steps behind you!" My mother, who suffered bouts of debilitating migraines and depression, lived by the words "Lie down on the couch before you wear yourself out." Both had renounced religion as a false panacea. Science and learning, they believed, would emancipate humanity from injustice, illness and other forms of suffering. Toward my mid-30s, I began questioning the power of these secular views.
I attended my first SGI Buddhist meeting in 1983, full of anxiety, chronically exhausted and ashamed about twice dropping out of graduate school. Neither drugs nor therapies had relieved my fears of my own fragility. Buddhist chanting baffled me, but the unrestrained optimism of the SGI members was inspiring. Within two months of chanting Nam-myoho-renge-kyo, I believed that I had conquered my anxiety, shame and exhaustion, drug free.
Just three years later, though, my fears resurfaced. Doctors determined that my husband's gradual loss of functioning on his left side was due to a fast-growing brain tumor. Experts offered little hope; Steve was given six months to live. I began chanting with the ferocity of a lion. Rather than isolate myself in fear, I reached out to friends in faith, many of whom were struggling themselves. "As long as we don't give up, we are winning. Let's win together," I told them. Medical expenses piled up, but I refused to accept defeat. I made regular financial contributions to advance kosen-rufu and encouraged others to do the same. With such strong resolve, we were able to get Steve's medical expenses covered completely and, even, to finish putting our two children through college.
For a decade and a half, we sought care for Steve through a wide range of medical modalities. His cancer never returned, and he extended his life 16 rich and fulfilling years. Through this experience, I learned that the power of determined prayer, a never-give-up spirit, and practice with and for others—these pillars of faith—are the greatest sources of healing. I was soon able to heal another deep family wound.
In 1999, I read a short news article about a class action lawsuit for descendants of those who had lost property in Austria during World War II. I remembered stories about my paternal Austrian grandfather, who landed in America in 1939 a broken man. Along with my father, he had attempted with no success to receive restitution for his wartime losses. Believing that compensation from this suit would offer some measure of justice, I began assembling the few documents that remained of my grandfather's steel business and submitted the claim. At first my claim was denied due to insufficient evidence. Then, after a six-month delay, an Austrian archive sent me a 52-page document that listed to the last reichsmark the Nazi's liquidation of my grandfather's business. My claim was accepted, and I received partial restitution.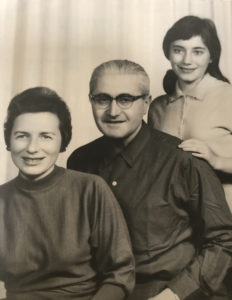 Out of immense gratitude, I set up two Soka University of America scholarships in the names of my maternal and paternal grandparents—all of whom came to this country as refugees in search of a better world for themselves and their children. Soon I was to win an even greater battle—one that originated from deep within my life.
Just before my husband's death in 2002, I helped my mother move from Chicago to San Jose, to spend her remaining years close to me. Our times together were rich and lively; we were best friends. Then, as she approached her mid-90s, she began to display frightening, unfamiliar behavior: uncontrollable screaming at night and bursts of anger during the day. Though I understood these episodes as signs of dementia, I was undone by their venom. I became more and more anxious and finally developed chronic insomnia. The sleepless nights that lasted for six years—well beyond my mother's death—led my life into disarray. Never knowing when I could rely on a refreshing night's sleep, I had a difficult time planning my days. My constant exhaustion mirrored the Jeanne of decades earlier: ambitious but overcome by fatigue and shame at her lack of agency. Desperate for relief, and fearful that the powerlessness of insomnia would overrun my life, I began to spend my days reaching out to medical experts, sampling one sleep remedy after another, none of which brought lasting relief.
In 2019, I was finally convinced that overcoming insomnia was an inside job: human revolution! Eventually I realized that my frightening condition was an opportunity to uproot the deep karma of fear in my family—fear of persecution, of vulnerability, of failure, of loss—that traced back generations. I had no doubt that overcoming this fear was my greatest mission. It was a gift not only to past, present and future generations of my family but to any person I encounter who doubts their ability to surmount any image of themselves that devalues their life. With such a powerful sense of purpose, I no longer felt I was a weak, fearful or failed person. Because insomnia didn't scare me anymore, it gradually disappeared!
I am determined to continue sharing Buddhism and planting seeds of possibility in people's lives so that each of us can appreciate that our story, our problems and doubts, are the soil for our growth, happiness and the inspiration of many.
---
Q: What advice would you give the youth?
Jeanne McKinney: Make your Buddhist practice the guiding force and center of your life. When you do so, every corner of your existence, each significant challenge, will become a source of joy and opportunity to discover and share the unique and irreplaceable purpose for which you have been born.
You are reading {{ meterCount }} of {{ meterMax }} free premium articles
Subscribe for unlimited access