by Melanie Santiago
Denver
When I was 13, my friend introduced me and our other friend to Nichiren Buddhism. A district discussion meeting was being held just down the street, so we walked together, my two best friends and I. 
I remember sitting on the floor with everyone, talking, laughing. Right away we were welcomed so warmly. We chanted, and I liked the way it felt. These are my people, I decided. Right away I said I wanted to begin my Buddhist practice. 
We stuck around after the meeting, sitting around a dining table, talking. I had a dining table at home, but no one ever sat there together. 
"What's going on?" the district women's leader asked. I unloaded my unfiltered feelings toward my mom. She listened and listened. Then said something that made me squirm. "Try chanting for her happiness."
In a way, I had an odd sort of fortune. She was so hands-off, my mom, so uninterested in her children's lives, that she signed the application for me to receive the Gohonzon without batting an eye. We almost never spoke, so it was a big deal when, after a visit from my district leaders, she asked me to walk her through what it was I was getting into. Racking my brains for the most appropriate explanation, I said, "It's like… Buddhist church!" When she blinked, I blurted, "I really like these people, and think this will be good for me!" I held my breath. She shrugged, then floored me with, "They really are nice people."
At that point, I'd been chanting a few months—not for her happiness; that was too great a leap—but to hate her less. I'd glimpsed my mother's humanity. 
Taking her shrug as a green light, I threw myself into SGI activities: discussions, chanting sessions, studies, taiko drums. If there was something going on and someone to take me, I was going! Doing all this truly opened up my life, which previously had been open to no one beyond my two best friends. I began to see that people didn't mind me being around—actually they seemed to like me quite a bit. 
I have to say, most of Ikeda Sensei's guidance about parents and their children didn't land with me—the poem "Ode to Mothers" was particularly unrelatable. But around the time I first accepted leadership, when I was 16, I encountered guidance that shifted my perspective dramatically.
"For both better and worse, life tendencies at the deepest level are often passed from parent to child. The important thing is to transform negative, harmful tendencies into positive, constructive ones that can draw out our inherent goodness without limit" (The Teachings for Victory, vol. 4, p. 23). Slowly, my prayer for my mother shifted from a grudging wish for her happiness to a proactive one. My life was my own, and I didn't need to spend it choked by anger and vitriol. 
As I'd thrown myself into SGI activities, I threw myself into school. Soon I was packing up, readying to leave for my first year of college, 90 minutes away. We were sitting at our dining table, my mom and I, talking about this and that, when she said, suddenly, "I'll make sure to visit you once a week." She meant it. We'd improved our relationship beyond what I'd ever imagined.
Then there was my father, my mom's ex-husband, whom I'd never met. Growing up, I'd wonder about him, but was told by my mom that he was not someone I'd ever want to meet. But in college, I became more curious. One day, I decided to search for him online and found him quite easily. I reached out to a relative of mine to verify and was shaken by the response: Yes, he was indeed my mom's ex-husband, but no, he was not my father. 
When I put the question to my mom, she dodged it, and I felt a familiar anger reawaken. Why had she hidden the truth? Had I deluded myself, simply imagining the progress we'd made? In the meantime, a DNA test verified that her ex-husband was not my father. As to who was—all available leads were dead ends. A couple of years passed, and I gave up and focused on my studies. 
In 2021, I visited Mississippi to spend Christmas with my mom and nephews. For presents, they wanted DNA tests; they'd taken an interest in family trees. I got one for each of them, the same one I'd gotten myself a couple years earlier, then forgot about it. But when, in the spring of 2022, they visited me in Denver, they asked me to connect with them over the DNA app. I hadn't opened it in years. When I did, I saw I had a message.
"I don't think I know who your dad is, I know I know," it read.
According to the app, it was from my cousin on my dad's side. Soon, she called me. Did I want to speak with my father? "Yes," I said, and she put him on FaceTime.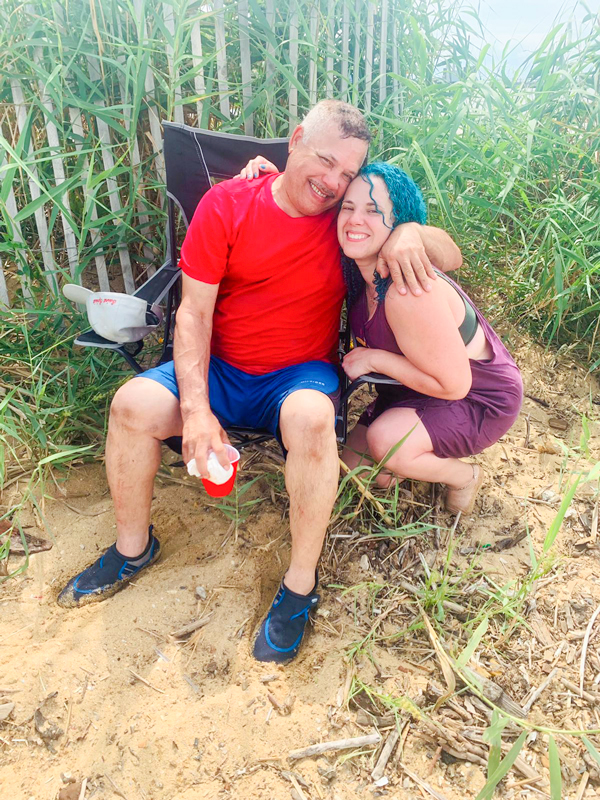 The resemblance was undeniable. We tripped over each other to point it out. 
"Our chins—" 
"Your nose—"
"Your eyes!"
Never in my life had it occurred to me that my father, whoever he was, would be overjoyed to meet me. Soon, I visited his side of the family and found I had a cousin named after me—they'd been eagerly waiting to meet me for years.
At the beginning of this year, I summoned the courage to tell my mom I'd met my real dad. I wasn't angry with her—I had the wisdom to guess that hurt had led her to hide the truth. I didn't need to pry. But I was a little scared, and said as much.
"It's all right, go ahead," she said, so I did. She didn't deny or evade or anything. "Your life is your life," she said. And that was that. 
Years ago, I had a realization: I wanted to take my mother to Paris. All her life, my mother has never left the country. And all her life, she's wanted to see the City of Love. Growing up, the Eiffel Tower was everywhere in our house—on sweaters, lampshades, posters and towels. I bought us both tickets for the end of this March, then worked like crazy toward our March youth meeting.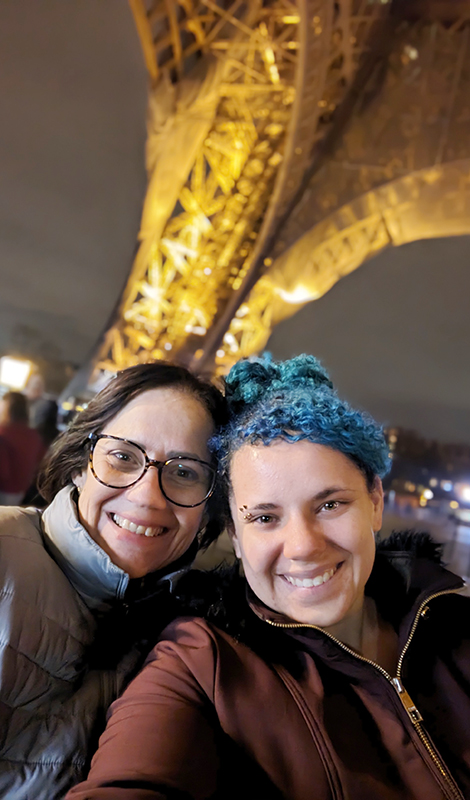 My Buddhist practice saved my life. Knowing that uplifting even one youth would make a difference in this world peace movement, I met with one after another. Many opened up and participated for the first time since the pandemic. After, I took my mom to Paris. Of course, arriving at the Eiffel Tower, she was giddy with excitement. I took pictures of her laughing, beaming. I'm living a dream, I thought. My life is mine, whatever I want it to be; poetic and beautiful.
You are reading {{ meterCount }} of {{ meterMax }} free premium articles
Subscribe for unlimited access