by Yuko Grover
New York
Not once since moving to New York in 1992 had I ever felt threatened by the city. But the pandemic changed that; there were days when New York appeared a hellish place to live. As waves of Asian hate crimes swept the city, I made sure to be outside only during the day, on populated streets, near shops where I was known and could duck into for safety. My husband's psychotherapy clinic shut down; I lost my job; in the Zoom era, youth vanished from our district. Then there was my youngest daughter, Mina, who has struggled intensely with addiction since the age of 14. Eighteen when New York locked down, she'd begun using heavily again. 
"Best she stay away from the city," counselors advised, "away from where she has easy access to drugs." 
On this advice, we enrolled Mina in out-of-state rehabilitation programs. But twice she ran away, vanishing for weeks on end. The first news of her whereabouts and condition came as a medical bill—a charge for the treatment of an overdose. If the bills are to be believed, in 2021 alone she overdosed five times. 
"I hate to say it," said a counselor, "but I'd be surprised if Mina lives past 20." 
To be honest, there were days when I felt totally defeated. Of course, because I've practiced Buddhism my whole life, part of me understood I could make the impossible possible. But in Mina's case, the experts cautioned against hope. Chanting, I often went over their carefully worded warnings: Mina's was one of the toughest cases they'd seen. On such days, I turned to guidance from Ikeda Sensei that I keep on my altar,
If you have no hope, / create some.
If the world around you is dark, / be the sun that illuminates all. (Aug. 15, 2016, World Tribune, p. 3)
The shadow that had fallen over our home was deep. I could see its weight on the shoulders of my eldest, Emma, who had been Mina's closest friend. My heart ached; I had no idea how to uplift either my family or my community. And yet this became my deepest prayer: Somehow, I would create hope for myself and others. Everything starts with hope.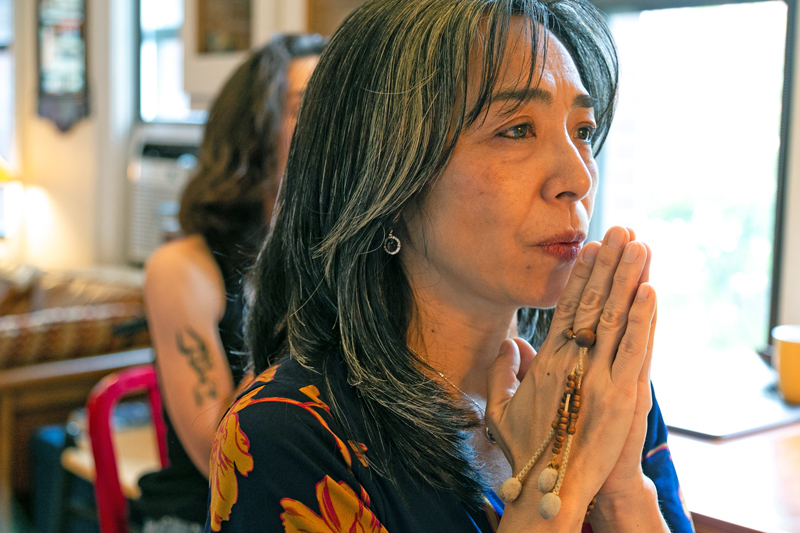 The more I chanted and studied Sensei's guidance, the more deeply I was struck by his care and hope for young people. Slowly, my prayer shifted. Less and less did I wonder frantically: Why are things not changing? Slowly it dawned on me: Mina has a mission that is hers alone. And if that's so, she has the power to transform her life. I was the protagonist of my life and Mina, of hers. 
Praying strongly to connect with Sensei's heart gave rise to a determination—the determination to introduce one young person to the practice. With this vow as kindling, I sparked an ember of hope within. Many young people were struggling and seeking a philosophy of hope. I began to dialogue with as many youth as possible. 
In the spring of 2021, I received a text from my niece who was attending New York University. She wanted to know how I was feeling in the wake of the most recent wave of Asian hate crimes. Tears came to my eyes as I read her thoughtful words. We got together for coffee and made it a regular thing. I introduced her to her young women's leaders and watched them bond like sisters. She started coming out to our district meetings and would say of them after, "It feels like home." Though living on campus, she was attending most of her classes virtually and felt isolated from her peers. Her friends, too, were struggling. As she began to speak with them about her own experience in the district, they began coming out themselves, one after another, and were embraced as family. The power of youth is incredible; the enthusiasm of youth is infectious! By summer, our district overflowed with the vitality of youth.
As I was connecting with these young women, Mina, too, was forming a connection that was affecting her profoundly. That same summer, she had a major relapse but responded differently than usual. She didn't shrug it off but broke down in tears, asking "Why is this happening to me?" Actually, we both broke down. Something was shifting—it was clear she wanted badly to transform somehow. Someone else took note, too. Perhaps because she saw something of herself in Mina, the founder of Mina's outpatient rehabilitation center offered to meet with her regularly, one-to-one, to mentor her in her recovery. With this woman's unwavering support, Mina began to join our discussion meetings.
At first, she was as shy and uncertain as ever: Would she be able to relate to the other young women? Would they relate to her? But as they shared their struggles, they bonded. And from this new sisterhood, an old one revived—walking through the house, I started hearing bursts of laughter: Emma and Mina together. In September, Mina shared her own experience at a district meeting, saying: "I'm determined to continue fighting to stay sober. I want to practice gratitude for my family who stuck by my side, loving me throughout my worst." 
A recent issue of the World Tribune included this guidance from Sensei on prayer:
The sapling you planted today isn't a mighty oak tomorrow. … Even if your prayer doesn't produce concrete results immediately, your continual prayer will at some time manifest itself in a form greater than you had ever hoped. (Nov. 18, 2022, World Tribune, p. 6)
Throughout the pandemic, the seeds of Buddhahood we all planted as a district have slowly come to bloom. Since the end of 2021, we have welcomed six new youth members to our district family, which is now bursting with joyful energy. The youth support one another; and even those of us who are a little older, just being around them we feel like youth again.
My daughters, my district, my family—all are still struggling, still fighting, but we are winning together, moving forward together without fear, holding high the light of hope.
You are reading {{ meterCount }} of {{ meterMax }} free premium articles
Subscribe for unlimited access