Living Buddhism: Hello Oona! Thank you for discussing your recent family breakthroughs with us. When did your experience begin?
Oona Friedland: In the summer of 2019, my brother began experiencing a host of bodily pains with no identifiable cause. Then, in April 2020, his symptoms devolved into a debilitating condition that partially cost him his sight, hearing, voice and ability to eat. He was incapacitated like this for six months before a specialist diagnosed him with a rare and advanced neurological disease. To our horror, she gave him one year to live.
My mother, one month retired from a storied career as a tenant-rights lawyer, committed herself to the 24/7 care of my brother with the same tirelessness with which she'd committed the previous 40 years to representing Detroit's most downtrodden residents. In raising my brother and me, she took on the dual responsibilities of motherhood and lawyering, and boasts of never taking a day off. Tending to my brother quickly became an all-consuming endeavor.
How did your brother respond to his diagnosis?
Oona: My brother was deeply discouraged. He had always been the brightest light in any room, the proverbial "big man on campus," someone who was always ready to laugh, always surrounded by laughter. My lenses may be rosetinted—I am his younger sibling after all—but anyone will tell you that Iggy's energy was infectious. It was often through the widening eyes of others that I was reminded of his impact.
"You're Iggy's sister?" people shouted when they found out.
Which leaves me, then, the cheerleader. It was just the three of us growing up, Iggy, my mother and I, a tight-knit unit. Iggy and I have different fathers, and while his stayed in the picture, mine didn't. Until I was 13, my father struggled to stay sober and in the margins of my life, and then, one day, he vanished—poof—as though from the face of the earth. I wasn't the only one he hurt. My father's disappearance weighed on our home. Not wanting to add to the burden, I put on a brave, smiling face. It's OK! We're all right! I said. But, where my father was concerned, I wasn't.
Throughout my childhood, my mother poured encouragement and praise on me. All that accounted for, however, my father's leaving did a number on my self-esteem and was one topic too sensitive to touch. I grew accustomed to cheering others on, putting on a brave face even when my heart was aching. When Iggy fell sick, that same tendency of mine cropped up again—I felt I had to offer myself as a constant support, a bright presence, without touching on my own pain for fear of adding fuel to the fire, weight to the burden. This was my initial response to the illness. Never had I felt so fortunate as I did then to have my SGI community to lean on.
Speaking of the SGI, when did you begin your practice? What drew you to try it out?
Oona: I began my Buddhist practice in 2018, age 24, as a sad and cynical person. My girlfriend at the time, now my wife, was trying out the practice. She brought me one day to an SGI meeting, of which my first impression was, unsurprisingly, cynical. Why are these people acting so kind, so attentive, so eager to know me? What do they want from me? I think this had to do with my father—his leaving had colored my outlook on the world, on relationships and friendships; I had a hard time trusting others' good intentions and letting them in. Eventually, I felt the undeniable sincerity of the SGI members. They wanted my happiness and went to great lengths to show me so. I got more involved in the practice, joining the Kayo core and doing Byakuren shifts, the young women's behind-the-scenes training group. It was with these young women, whom I'd bonded with, that I came to feel I could share anything.
In the winter of 2021, Iggy received a second medical opinion that he would survive. This came as a massive relief to me and my mother, and felt like incredible proof of my Buddhist practice. At the same time, my mother now had to pivot, mentally and emotionally, to the prospect of indefinite caregiving. Even with this victory, time together was spent in sadness so deep and complex it felt unspeakable. It seemed that the devil of illness had taken up residence in our homes. It was all we ever talked about or tended to—even at home with my wife, I'd go on about it, flip-flopping from self-pity to complaint.
What role did your faith play at this time?
Oona: As I mentioned, it was with the great friends I'd made in Byakuren and Kayo-kai that I opened up to at this time, feeling I could share anything with them. Through these conversations and my own chanting, I began internally navigating the intense and complex emotions that patterned my family life.
One day, on my way home from work, I was overcome by immense sadness. I pulled over to the side of the road, killed the engine and wept. In that state, I called my young women's leader, who picked up on the first ring and listened for a good while. Then she said: "Oona, I know it's hard, but it's precisely for these moments in life that we practice Buddhism. You must become happy, and that begins with you, with your daimoku, your heart, not with something or someone outside of you. Let's chant with the conviction: When I change, my environment changes."
That night, I sat down and chanted—and I mean really chanted, asking myself, What do I need to confront in my own life in order to become happy? Chanting to appreciate my life and my family, without pointing a finger at circumstance, without complaint or self-pity, I came to realize what it was that was keeping me down: I was deeply afraid to be honest.
How would you describe this fear of being honest?
Oona: I'd been putting on my brave face, not voicing how scary and confusing this whole experience was for me, thinking that the people in my family didn't have the capacity for this kind of honesty, with my brother shouldering the burden of his illness and my mother being the one looking after him. But who was I helping by holding this in? By withholding my feelings, I couldn't give true support to them and do our human revolution together. After abundant daimoku, I called my mother.
"This is so hard," I told her.
She let out a long breath. "Yeah," she said.
"Remember those walks we used to take?" I didn't have to tell her which ones. Our childhood home was on a lake, and we'd take walks around it, my mother pointing out the birds—she knew them by their beaks, their flight patterns, their colors and size.
"I do," she said.
"And the camping trips?"
"Of course."
"I really miss that; I really miss you. I really need you right now. Do you think you could make it over sometime for dinner?"
After this conversation, I began going to each of my Byakuren shifts with a renewed intention, carrying my brother and mother in my heart. I will become absolutely happy and shine like the sun for my family. With this change, I was able to show up for my mother and brother in a new way. When I went over, I no longer strained to paint a rosy picture of the situation. I accepted the situation for what it was—a grueling and difficult one for any family to experience.
But even amid that, I felt deep appreciation, recognizing that this was a chance to deepen my connection with myself and my family. My brother now says of me and Lauren, my wife, that we are among a very few with whom he feels he can be himself, totally honest and comfortable. For his part, I've seen him draw on reserves of deep inner strength to return to what once brought him so much joy in life: his passion for ceramics.
My mother, too, slowly began to return to that which had once given her so much joy—birdwatching and nature walks—and made it to our place once a week for dinner. My brother gradually improved his health and began making ceramics again, even recently exhibiting them in a gallery.
Last June, we did what just a few months earlier would have seemed impossible—we went on a camping trip. We planned everything, down to who would get what from the grocers, where we'd find firewood, etc. We got there with plenty of daylight to set up camp. As the sun went down, Lauren got to work making a fire. She worked nimbly with the kindling, drawing appreciative sounds from Iggy and my mom, and then compliments. All the praise was making me a little jealous.
"Well, yeah, it's pretty good, I guess," I said. In the moment of silence that followed, I think I saw my brother raise an eyebrow. If anything, the trials he's been through have given him an even keener ear for comedy.
"I mean, this fire," he mused, "might just be the best fire ever made." After this, the praise of the fire grew more and more lavish, each one-upping the other, until even I couldn't help but laugh with them.
Above the fire, above the laughter, the moon shone brightly in the clear night sky. I looked at it awhile, taking in the moment, and recalled, suddenly, these words of Nichiren Daishonin:
The journey from Kamakura to Kyoto takes twelve days. If you travel for eleven but stop with only one day remaining, how can you admire the moon over the capital? No matter what, stay close to the priest who knows the heart of the Lotus Sutra, keep learning from him the principles of Buddhism, and continue your journey of faith. ("Letter to Niike," The Writings of Nichiren Daishonin, vol. 1, p. 1027)
I felt all right about their praise then—Lauren really does know how to make a fire. All of us together had built something just as bright, just as strong. Out of two years of hardship, leading with courage, honesty and fighting spirit—we'd become a family that knows how to kindle deep, blazing joy, even in the depths of night.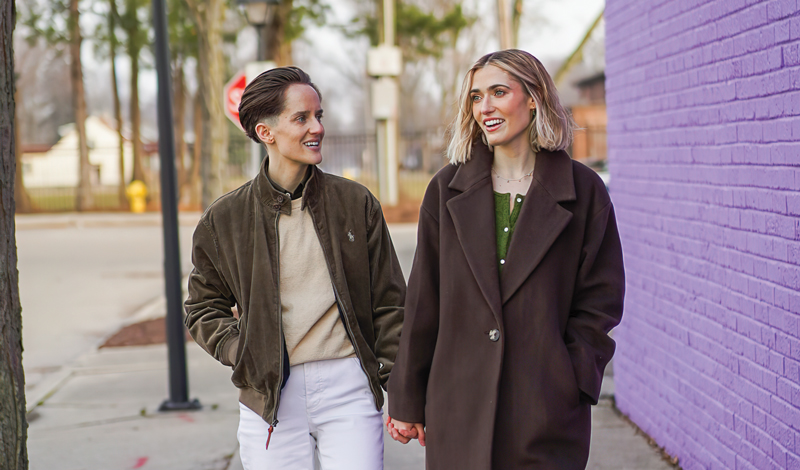 You are reading {{ meterCount }} of {{ meterMax }} free premium articles
Subscribe for unlimited access