Living Buddhism: Hi Matt, what led you to begin practicing Nichiren Buddhism?
Matt Thompson: I was introduced by a dear friend whom I met in a camp for brain injury survivors. As I observed how her life unfolded, I could see there was something powerful about chanting Nam-myoho-renge-kyo. At that time, however, Buddhism was too far removed from my upbringing, so I couldn't bring myself to jump in.
Can you tell us about your injury?
Matt: I was 17 driving, unbuckled on a winding, wintry road, when I hit a patch of black ice and spun out of control. The crash threw me out of the driver's side window, 120 feet from the car. The resulting brain trauma changed the trajectory of my life.
At the time, I dreamed of becoming a Broadway actor by 25. I had won a number of acting and choir awards in school and state competitions. I was outgoing and talented. The injury robbed me of basic motor skills—keeping food in my mouth while I chewed it, for instance. What's more, I no longer wanted to act. My injury had changed my personality.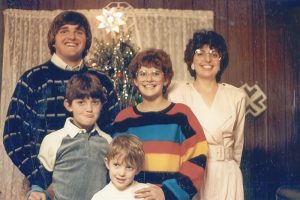 How so?
Matt: A big stage and a crowd no longer appealed to me. I was quieter, more introverted. Still, I felt I'd been robbed, not only of "life on the big stage" but also life as a normal person. Once academically gifted, I now required all kinds of help to complete assignments. With the support of my teachers and family, I graduated from high school and eventually acquired my bachelor's degree in psychology. The whole time, though, I was plagued by a sense of powerlessness and frustration. A question that followed me for years was, Why me?
You saw your injury as a hindrance.
Matt: I certainly did. And it wasn't the only thing I was lamenting. For much of my life, I had known I was gay but hid the fact from friends, family and, as much as possible, from myself. I grew up in a small Colorado town where being gay was looked down upon. There was nothing and no one in my environment to indicate that what I was feeling was OK.
While my family supported me tremendously in my recovery, they had difficulty accepting me when I finally came out. On top of the injury, my sexual orientation became another perceived hindrance that I wanted to escape.
You must have had so much going on internally. What finally inspired you to begin practicing Buddhism?
Matt: I finally began chanting Nam-myoho-renge-kyo in 2010 while detained in a jail in China. I had moved there to teach English to escape from my overwhelming job as a social worker. I wanted to travel, to find myself.
In college, I had awakened to many social injustices and wanted to make a difference. But with the demands of the work, all my frustrations resurfaced about being a brain injury survivor. I just felt I couldn't handle the work. I quit after a few months. Moreover, wrestling still with my identity as a gay man, I wanted to explore this part of myself somewhere far away from my hometown, somewhere no one knew me at all.
What happened in China?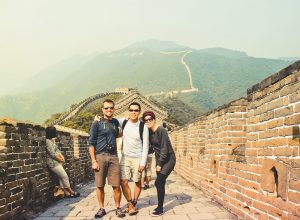 Matt: I was there to find myself, but ultimately, I was still escaping who I was by engaging in reckless behavior that devalued my life. Things came to a head when an acquaintance falsely accused me of breaking the law, resulting in my detainment. Waiting anxiously for the authorities to decide my fate, I thought of my Buddhist friend who always seemed unfazed by life's trials. What was it that she had taught me to say? I thought. Stupid brain injury.
Finally, I remembered and began chanting Nam-myoho-renge-kyo quietly. I felt less scared and more in control of the situation. Soon, the authorities informed me that I was free to go as there was no justification for my detainment. I continued to chant and, in doing so, reflected on the underlying reasons for my behavior and unhappiness. This led me to begin to see the value of myself, and I naturally surrounded myself with better people.
Around this time, I met my future husband, Haibo. When I told him about my struggles, he said simply, "It sounds like you need a friend." His comment made me think again of my friend back home who introduced me to Buddhism.
I returned to Colorado in 2012 and immediately got back in touch with her and started attending SGI meetings. Deeply impressed by the warmth, vitality and optimism of the members, and Ikeda Sensei's inspiring words and actions, I received the Gohonzon in 2013.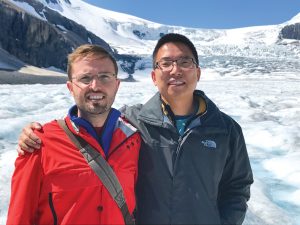 How has your life changed since?
Matt: My Buddhist practice has taught me how to treasure myself and given me confidence that I have a unique mission based on my past struggles. I'm not broken; nothing is wrong with me. In fact, my brain injury and other challenges have contributed to me becoming a more compassionate person who can perceive the value in all people.
While my injury has made certain tasks more difficult, it is precisely because of my disability that I can see how certain social services might be difficult to access for others with similar challenges. Through supporting and being supported by Sensei's organization, I have begun to view my injury in this way, as a strength and as part of my mission to help others with similar karma. I recently signed up for a professional training course that would help me make social services easier to navigate for elderly and disabled people.
We heard you attended the men's conference at the Florida Nature and Culture Center in March. How was that experience?
Matt: I felt so proud to attend the first FNCC conference since the start of the COVID-19 pandemic. A mood of vigorous encouragement permeated every activity. I truly felt Sensei's heart to encourage the members throughout the conference. A bit of guidance that hit me deeply was that everyone has trials, but we must ask ourselves, Will I be defined by my trials or how I overcame them?
That question shook me. I realized that there was a piece of me still who believed that my injury set limits on my ability to create value. I thought of Sensei's first visit to Chicago in 1960, when he witnessed a young Black boy cruelly discriminated against, and after running after the boy hoping to encourage him, he vowed, "I promise you that I will build a society truly worthy of your love and pride" (The New Human Revolution, vol. 1, p. 145). If we are, in fact, Bodhisattvas of the Earth, this is the vow we have each made to one another. I realized that it doesn't matter what my limitations may or may not be—there's no point in dwelling on them. I have to take action, to the best of my ability as a disciple of Sensei, to eliminate suffering and bring joy to others.
I also renewed my determination to win at work as a social worker. I support individuals and families who have experienced a traumatic life event that makes it difficult to keep employment or housing. I work with the "strengths-based approach," which teaches that all people have survived to the point they have due to certain strengths, and those strengths need to be drawn out even more to help them succeed. Based on my recent professional development course, I will be presenting changes to make services more accessible. And as a region men's leader, I'm determined to show actual proof and to advance within the SGI, united with my young men's co-leader to launch the 2022 Young Men's Division Academy.
That is spectacular how you've changed karma into mission. What advice would you give to those struggling to believe in themselves?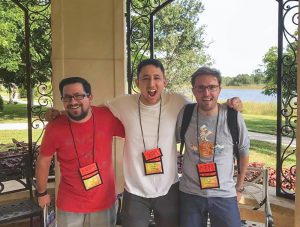 Matt: Buddhism teaches that everything has value. By encouraging one another based on Sensei's guidance and Nichiren Daishonin's writings, and chanting courageously about our perceived weaknesses, we turn them into the source of our greatest strength. I've been inspired by these words from Sensei:
There may be times when we feel disinclined to do something, or when we would like to take a break. This is only natural, since we are ordinary beings. But what matters is that we stay on course, that we continue forging ahead patiently on the path to Buddhahood while encouraging one another along the way.
If a plane flies off course or a car veers carelessly off the road, it can easily have an accident or fail to reach its destination. Similarly, if our lives go off course, we, too, can crash, plunging into misfortune and misery. Though it may not be visible to the eye, there is a path or course in life. A path leading to absolute happiness exists without a doubt—and that is the path of the Mystic Law. (The Wisdom for Creating Happiness and Peace, vol. 1, revised edition, pp. 318–19)
My Buddhist practice with the SGI has put me on a course to strive for the dignity and value of my life and help others along the way. On my Buddhist altar, I have a note that reads "Victim or Victory." Each morning I chant, deciding to be a victor.
You are reading {{ meterCount }} of {{ meterMax }} free premium articles
Subscribe for unlimited access