by Rachel Salomonsen
Bristow, VA
It was in Rwanda, in 2005, while doing foreign aid work for a U.S.-based global health company, where I first broke a long silence I'd kept with my father. My brothers and sister, too, had closed their lives to him. Pain stemming from the childhood we spent under his roof had banded us together against him.
He was overjoyed to get the call, but confused, too; Silence for years—why break it now?
Behind the call was an inner shift I had experienced while chanting and sharing Nichiren Buddhism with people in Rwanda, who were reeling still from the internal strife that had devolved in 1994 into genocide. Here, a decade earlier, hundreds of thousands had died at their neighbors' hands. I shared Buddhism with over a hundred Rwandese, of whom 20 began their practice. Affirming over a hundred times that Buddhahood resides in all people without exception, even in those who had harmed their communities, I came to see the hypocrisy of my disbelief in my father's potential. So, I called. Communication began again, but I have to admit, even as the years passed by, these exchanges, these phone calls and summer visits, never rose above a grudging kind of charity on my part. Still, the practice of sharing Buddhism with others had set me down the long road to respect for the dignity of my father's life.
Speaking of roads to my father, my husband and our two boys took a cross-country car trip this past summer, with my parents' hometown of Orlando, Florida, as the final outbound stop. Since Rwanda, I have made use of travel opportunities to widely share Buddhism. I told my boys, ages 11 and 14, "We are going on this trip across America because there are people waiting for us to teach them about Nam-myoho-renge-kyo!" They rolled their eyes. My husband kept quiet. I think they hoped I was kidding. I wasn't. I made a determination, a serious one, to share Nichiren Buddhism with at least 50 people on our trip across the States.
From Virginia we traveled to Maine, then cut west to Montana, then switched back and down to Florida before heading home. Whoever we met—hikers, gas attendants, cashiers—if they looked at me once, they were getting acquainted with Nam-myoho-renge-kyo. Several times, people actually exclaimed in surprise. A Montanan couple, in line with us to buy soft drinks, had together agreed, not one hour before, to look into Buddhism. The wife of one camp host had been chanting Nam-myoho-renge-kyo for years, having heard it in a movie about the life of rock icon and Nichiren Buddhist Tina Turner.
Another camp host, a Native American veteran of the Afghanistan War, joined me lakeside for evening daimoku. A light breeze was picking through the cattails and the setting sun danced on the water. "I was an interrogator," he told me. "Now the military gives me meds to help me forget." Afterwards, he said it had been a long time since he had felt so calm and connected to the lake. He made a small fire that we gathered round, shared food with us and told my boys stories handed down from his tribe. I shared Buddhism with his wife on our way out. As she thanked me, her eyes welled up with tears. I was so grateful for these opportunities, and also that my children were able to see what it means to accomplish a mission. In total, we traveled over 23 states, and I introduced 65 people to this practice.
Arriving on my parents' doorstep a few days later, sweaty from the heat, tired from the drive, I received an immediate briefing from my father on the facts of a developing crisis. I gathered that an argument between him and my brother had escalated over the past few days to dire proportions ("dire" was my mother's contribution). Trifling though it seemed, I knew old wounds simmered beneath. In fact, listening to my father, I felt the urge to act out my decades-old habit of rebuffing him, of tuning out his pain, but I didn't. For the first time in a long time, I listened and did not discount my father's suffering.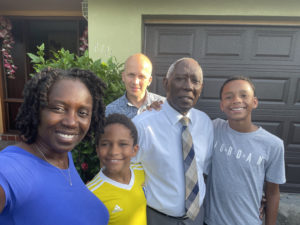 My father is Christian. When he was done I asked, "Do you pray for your son's happiness?" Flustered, he said he did not and would not begin any time soon. "If you want your son to honor you," I said, "you'll have to want him to be happy."
My whole family knows I'm Buddhist; it wasn't strange for them to hear me chanting over the course of my stay. I prayed deeply for my father's and brother's happiness, taking long walks with my brother and speaking further with our father. Before I left for home, my father—"that impossible man" as my brother called him on our first walk together—had agreed to pray for the happiness of his son. A few months later, when he faced a medical emergency, it was this son he called on for help, and this son who came, something inconceivable under the conditions of our summer visit.
I then understood that my efforts to connect with and share Buddhism with so many people on our trip had primed my heart to see this final challenge for what it was, and to take it on! Honoring the dignity of my father's life was a major transformation for me, one that was 20-plus years in the making. By honoring the dignity of the many lives I encountered on my way to him, I was able to rise to the occasion, supporting a profound transformation of my family's karma.
---
f
from Nichiren Daishonin ("The True Aspect of All Phenomena," The Writings of Nichiren Daishonin, vol. 1, p. 386)
Teach others to the best of your ability, even if it is only a single sentence or phrase.
You are reading {{ meterCount }} of {{ meterMax }} free premium articles
Subscribe for unlimited access